1)
Wesch, From Knowledgable to Knowledge-able"
Wesch's argument is that the role of a student should progress from simply memorizing and reiterating material, to being proactive and engaging in material. Wesch also wants students to learn more about and engage more in real world issues that have greater implications than trivial information on tests that won't be remembered once the class is done and over with anyway. Wesch uses this video below that he made to show what students really think about their classes.
The students admit to not paying attention in class and buying books that they never read. I don't think Wesch is saying that this is students' faults though. Rather, I think the teaching style has a lot to do with a student's attitude. At the school he taped this video at there were a large number of students sitting in big lecture halls. One of the students even said something about her teachers not knowing her name. Not only would a class size influence the format of the class, but the assignments do as well. Wesch gives the example of the bubble sheet tests no longer being appropriate.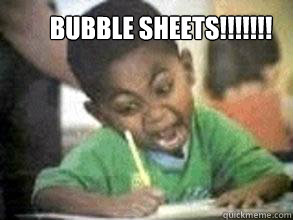 When Wesch was talking about this, I was reminded of the idea of
progressive education
. Progessive Education includes:
emphasis on learning by doing, understanding and action as the goals of learning as opposed to rote knowledge, collaborative and cooperative learning project, education for social responsibility and democracy, personalized education, integration of community service and service learning projects into the daily curriculum, selection of subject content by looking forward to ask what skills will be needed in future society, de-emphasis on textbooks in favor of varied learning resources, and an Emphasis on lifelong learning and social skills
. (Taken from the wiki website) I think this kind of education would better please Wesch. Not only that, but students may be pleased more as well. One of the comments on Wesch's article was that the way students take classes now is like getting vaccinations. Once the class is over with, they're done with it and the material that goes along with it. The students have already "had" the class just like they have "had" a shot. Maybe a better teaching style would allow students to carry on more information past the final exam and use it in the real world.
I agree with Wesch's argument and think that education should be different. Students should be "knowledge-able. My question to the class would be: do you think Wesch makes a good argument or are you more in favor of the traditional teaching style?